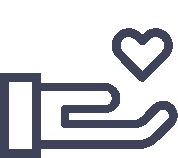 Bring all the tithes into the storehouse so there will be enough food in my Temple. If you do," says the Lord of Heaven's Armies, "I will open the windows of heaven for you. I will pour out a blessing so great you won't have enough room to take it in! Try it! Put me to the test!
You can give in person at any of our three locations in the seat back pocket in front of where you sit!
You can mail your gift! Make your checks payable to Life Springs Church and mail them to 3215 Keller-Andrews Rd, Sanford, NC 27330.
It's safe, simple, and secure!
​
Text 84321
with your gift amount!